Nurse Practitioners
A nurse practitioner (NP) is an advanced practice registered nurse (APRN) who has completed advanced coursework and clinical education beyond that required of the generalist registered nurse (RN) role. According to the International Council of Nurses, an NP/advanced practice registered nurse is "a registered nurse who has acquired the knowledge base, decision-making skills, and clinical competencies for expanded practice beyond that of an RN, the characteristics of which would be determined by the context in which he or she is credentialed to practice. Nurse practitioners manage acute and chronic medical conditions (both physical and mental) through comprehensive history taking, physical exam, and the ordering of diagnostic tests and medical treatments. NPs (within their scope of practice) are qualified to diagnose medical problems, order treatments, prescribe medications, and make referrals for a wide range of acute and chronic medical conditions. NPs may serve as a patient's primary healthcare provider and they may see patients of all ages depending on their specialty (e.g., family, adult, pediatrics, geriatrics, etc.). NPs may also specialize (with commensurate education and experience) in specific areas (e.g., cardiology, dermatology, oncology, pain management, surgical, orthopedics, women's health, etc.). Similar to all healthcare professions, the core philosophy of the nurse practitioner role is individualized care that focuses on a patient's medical issues as well as the effects of illness on the life of a patient and his or her family. NPs focus on prevention, wellness, and patient education.
Traci Innes, MSN WHCNP-BC, FNP-C
Traci was born and raised in Southern California and has been living in Ahwatukee for the past 22 years. She attended Arizona State University with Undergraduate work in Exercise Science/Sports Medicine and Nursing. Worked in Maternal/Child Services since 1994. Attended graduate school at Arizona State University and receiving Master's in Nursing and Women's Health Nurse Practitioner. Later, returning to Grand Canyon University for Family Practice Nurse Practitioner Program. She has worked for A Woman's Place since April 2010. Traci has been married since 1990 and has 2 children- Holly (17) and Hayden (15). She enjoys hiking, traveling, and spending time with family.
**************************************************************************************************************************************** 
 Lynne Fiore, MSN, WHNCP-BC
I have a master's degree in nursing (MSN) and have been specializing in the women's health area since 1969. I am nationally certified (RNC) and have been a Women's Health Care Nurse Practitioner since 1990. With many years of experience, my strengths have developed into an ability to anticipate a woman's concerns (very handy when women are reluctant to ask intimate questions), decrease anxiety, and create a comfortable bond between my clients and myself. I truly believe that humor is one of the best medicines there is, and that most negative things can be overcome with the proper attitude!
I perform yearly GYN exams and infection checks. Nurse practitioners are teachers also, and I teach my patients about how to lose weight, which vitamins to take, what exercises are effective, which birth control is good for you - and HIM!! - and how to recognize infections
 ***************************************************************************************************************************************
In This Section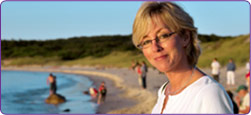 Patient Stories
This isn't your grandma's hysterectomy. Hear what other patients are saying. [ click here ]