Services & Procedures
We are devoted to providing the full range of gynecology services and we are excited to announce we are now offering Laser Hair Removal treatments right in our office. If you would like more information on the services we provide, please call our office or speak with your provider.
Gynecological Care
General Gynecologic Care
Urogynecology and Pelvic Reconstructive Surgery
Urinary Incontinence Evaluation and Treatment
Premenstrual Syndrome Management
Uterine Endometrial Ablation
GYN Surgery
Minimally Invasive Surgery

Advanced Laparoscopic & Hysteroscopic Surgery

Infertility Evaluation and Treatment
Menopause Management
Adolescent Care / Consultations
As girls grow into teens, it's important that they receive appropriate medical care. The American College of Obstetrics and Gynecology (ACOG) recommends that young women have their first visit with an obstetrician-gynecologist (OB/GYN) between the ages of 13 and 15.
The idea of seeing a gynecologist or having a pelvic exam can make a girl feel nervous, embarrassed, or scared. By explaining why the visit is necessary, giving your daughter a sense of what to expect, and addressing any questions or fears she might have, you can help her feel more comfortable about taking this step. Chances are, your daughter has associated visits to the doctor with health problems and she may not understand why she would go to the doctor when she feels perfectly fine.
Before the actual visit, the adolescent should be communicated and understand that this type of visit serves at least three main purposes:
Information - She can get accurate information and confidential answers to any questions she may have concerning sex, sexuality, her changing body, and menstruation.
Prevention - She can learn about pregnancy prevention, sexually transmitted diseases, and healthy lifestyles.
Treatment - For girls who experience missed periods, pain, or other reproductive problems, the doctor can look into why the problems are occurring and offer treatment.
Also, you may want to reassure your daughter that even though there are a lot of different parts of the gynecological visit, the actual physical exam — and the part she might feel most uncomfortable about — is rarely ever necessary for girls under the age of 21.
Note that for most teens, the first visit will include an external examination of the genitals but not an internal examination of the reproductive organs, which is recommended beginning at age 21 for healthy women. However, if your daughter has abnormal vaginal bleeding, painful periods, unusual vaginal secretions, or other problems that may be associated with her reproductive health, she may need a pelvic exam sooner. We are happy to offer this service to our adolescent patients.
Laser Hair Removal Services Available
As an added convenience to our patients, we offer Laser Hair removal services right in our office. Unlike other laser hair removal facilities, these services are actually rendered by a physician, Dr. Alison Cooper. Laser hair removal treatment is an FDA approved method for permanent reduction of hair.
Pricing includes:
00-15 minutes $ 75.00
16-30 minutes $150.00
31-45 minutes $225.00
46-60 minutes $300.00
****** Same day treatments often available ****** Note these rates are subject to change without notice.
For more information regarding this treatment and to access the consent forms for Laser services, click here LASER CONSENT FORMS
Gen Path Laboratory Services
New as of August 2014, we now offer a GenPath lab drawing station right in our office for your convenience. Avoid the long lines and inconvenience of having to visit an outside lab, we now offer GenPath lab services right at our office.
Hospital Care
When hospitalization is necessary, our primary facility is Banner Baywood Medical Center in Mesa. Banner Baywood Medical Center's gynecologic, and ambulatory facilities are excellent.
In This Section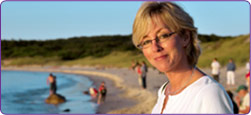 Patient Stories
This isn't your grandma's hysterectomy. Hear what other patients are saying. [ click here ]